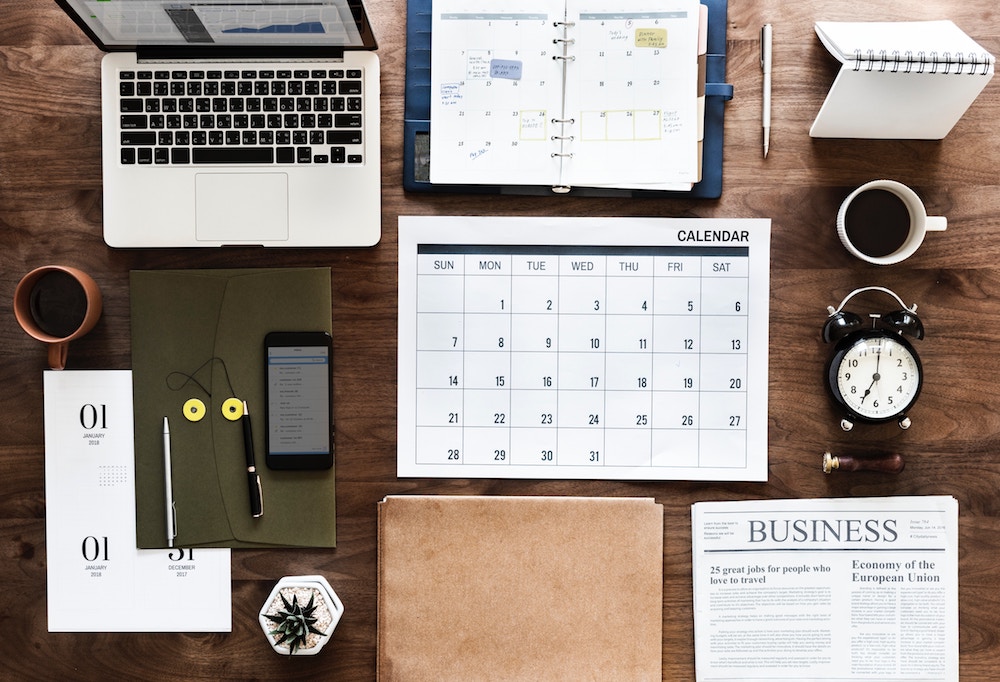 Ditch the chaos and embrace productivity with 4 simple strategies
The stress of running late and showing up unprepared make a real impact on your health. The rise in cortisol and last-minute decisions can result in poor food choices, while the self-blame and guilt can erode your confidence and resolve. You can avoid the miserable feelings and bad choices that result from forgetting things and running out of time. Become more productive and embrace the satisfaction of being on track and on time by implementing a few simple productivity tips that will make healthy choices easier.
Make your info accessible from anywhere
When you end up at the store without a list or a plan, you forget essential supplies. Disorganization plagues us all in an age of 24/7 connectivity. The constant barrage of emails ends up with multiple to-do lists scattered on every surface.
Use apps on your phone or Amazon Alexa to bring the chaos into control. Digital assistants can maintain an updated shopping or to-do list for you or visible to the family. Lists are an excellent way to keep track of what you need, and a digital voice assistant will add new items to the list with simple voice commands so you won't forget your list as home when it's time to shop.
Don't stop after you solve your grocery and to-do lists. Digital assistants can help keep you keep track of your weight, workouts, and even calories, as well as reminding you to take medicine or make an appointment with your doctor.
Block time in your schedule
Making good food choices is easier when you're not in a rush. If you're running behind and forgetful, it's easy to compromise your commitment to eating healthfully. The convenience of fast food and delivery are harder to overcome when you're tired, hungry, and in a rush. Likewise, not having the ingredients on hand for quick meals can cause you to rush to the store. Rushing leaves you paying more for convenience items and making less healthy choices.
Block time every week for meal planning, grocery shopping, and meal prep. Setting aside 20 minutes each week to plan meals make a corresponding grocery list will save you hours of time as the week progresses. With a few hours' notice, you can pre-order your groceries and save a trip to the store with Instacart or Whole Foods. Planning ahead lets you identify nights you won't have time to cook so you can arrange meal delivery from Deliver Lean or Hello Fresh.
Go a step further by identifying two family-favorite meals that rely on non-perishables you can stock in the pantry or freezer. That way when something unexpected happens, you'll have at least two meals on-hand that you can cook without leaving the house. Stock up these pantry and freezer staples by buying in bulk at a club like Costco.
Set reminders and alarms
Reminders can keep us on track for even the most mundane daily tasks, like taking your medicine or multivitamin. A lapse in a routine can lead to a relapse in the behavior. For example, if someone has a goal of taking a specific multivitamin on a daily basis and ends up missing a few days or a week they make be at risk of giving up the habit altogether.
The noted behavioral scientist BJ Fogg reports that being motivated and capable isn't enough to achieve the decided behavior, people need a trigger to be successful. Make sure these tasks don't get lost in the chaos of your day by setting alarms and reminders. Not only will the trigger help you take your meds as directed so you feel better and remain healthier, but discarding the weight of remembering tasks will free up mental cycles in which you can be more creative and productive.
Don't stop there. You can also set future reminders to fill or pick up a prescription, or create a recurring order for regular purchases. Amazon makes it easy to order products regularly such as paper towels, laundry detergent, K-cups, paper plates, razors, etc. Amazon even gives you a 5% by subscribing for recurring. Chewy is a fantastic company that offers a discount as well for purchasing dog and cat food.
Create systemized routines
Your fitness goals can be upended if you show up at the gym or studio without your shoes or yoga mat. Misplacing items or not having what you need for a class or workout is frustrating and stressful. Sure, you can swim instead of run, or grab a spare mat at Target, but it quickly becomes expensive to replace things you forgot or can't find.
Create a launch pad by your door where you leave important items, so you don't forget them on the way out. It can be a shelf, an attractive basket, or a small chair but it should be visible from inside your home so you can do visual checks. The key is that you check it each time you leave the house. If you know that you have yoga the next day, check your launch pad to ensure it's with your gym bag and ready to go.
Create routines that help you avoid misplacing your keys, shoes, and other important items – misplaced items most often make people run late. For fans of digital assistants, enable Remember Your Keys on Alexa to customize a list of questions she'll ask to make sure you have what you need to leave for the day.
These four simple strategies make you more productive
Feeling unprepared and forgetting things can leave you feeling miserable. It makes an impact on your health as well. Stress hormones, poor food choices, and the constant mental anguish can derail even the most motivated and capable among us.
Avoid the miserable feelings and bad choices and embrace your productive side by implementing routines, taking advantage of technology, and blocking out planning time in your schedule each week.
What's the one task that derails your whole week if not complete?