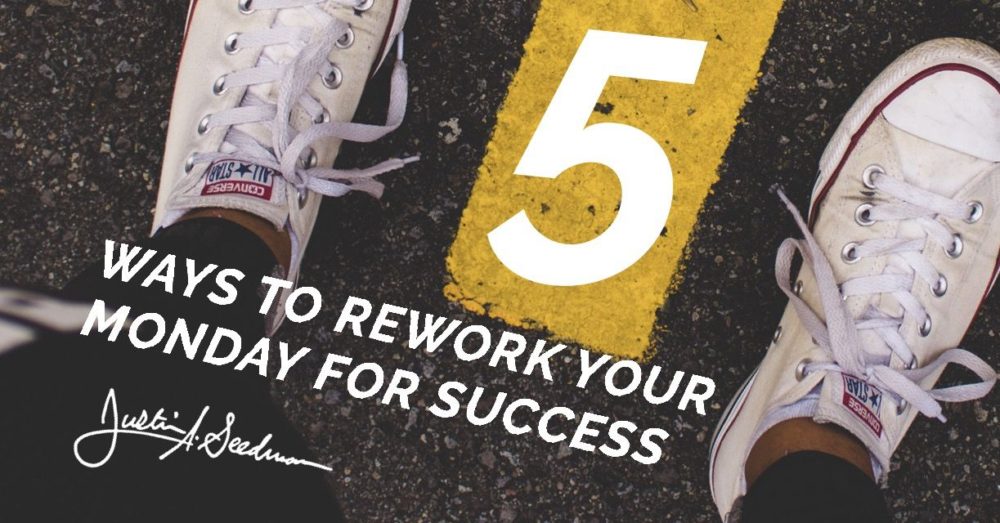 5 Ways to Rework Your Monday for Success
Each week, everyone counts down the days until the weekend. Then when Sunday night rolls around, that feeling of the Monday Blues creeps in. However, I don't let Monday get me down. I have discovered the secret to making Monday the best day of the week; and today, I'm sharing those secrets with you.
Here are my 5 tips for Monday Success:
Get a Head Start – It's been said that being unprepared is actually preparing to fail. So going into the week prepared will help ensure success. In my world, Monday actually begins on Sunday afternoon. On Sunday afternoon, I open my success playbook and begin: grocery shopping, meal prepping, laundry, goal setting, reviewing my schedule, confirming sessions with my clients, scheduling social media posts, designing workouts, charging devices, etc…That way on Monday morning I feel organized and prepared.
Get Fired Up – Ask yourself what you are the most excited about this week. Make sure you have something you are looking forward to, not just personally, but professionally as well.You might also like: The Importance of Hobbies 
Set the Tone – Rushing on a Monday morning is definitely not a good way to start the week. Wake up before everyone else in your house. This will give you plenty of time to take care of yourself. Take 10 minutes of quiet time: do a short but effective exercise routine such as Sun Salutations, and make yourself a healthy breakfast.
Take Action – Do the tasks you are looking forward to the LEAST. If you have to make an uncomfortable phone call, do it. If you have a doctor's appt you have been putting off, schedule it for Monday. Try to get the tough stuff out of the way, that way the rest of the week will be easy.
Build Momentum – Accomplish something and then build on the momentum. Get a win under your belt by crossing a critical task off your to-do list. It's incredible how good it feels to get something done. If you are working on a multi-step project, create a to-do list that outlines each step – that way you can cross off as you go.
Keep these tips in mind so when Monday rolls around, you feel ready and prepared for the week ahead!
By: Justin A. Seedman BS, CPT, CHC, BCS

Ready to take control of your health and fitness?
Partner with us to get expert coaching, support and accountability.